23 Sep

American Design
A third-generation builder who grew up in Northern Virginia, DeLuca founded his flagship venture Federal Stone and Brick in 2001.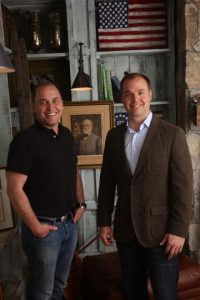 As I wound my car up the long driveway at Langley Ordinary, my tires crunched against the loose gravel, kicking up a small cloud of dust into the sunlight. I pulled up beside a porch of whitewashed pine that wrapped around a sprawling colonial home with an adjacent outdoor living area, stone fireplaces, a guesthouse, a vegetable garden and a wide lawn that rolled down a hillside, scattered with neat stacks of salvaged antique lumber waiting to be used on future construction projects.
Built in 1842 as a drovers rest, Langley Ordinary sits just north of Key Bridge in McLean, Virginia, and over the past 150 years it has been used as everything from a public meeting house to a command post for a Civil War Union general. This historic property is not a typical company headquarters—but owner Doug DeLuca and his business partner Matt Bronczek are not typical company men. When they bought Langley Ordinary just over two years ago, it was in a state of near desolation. They set about repurposing the property as a palette for their ambitious vision for historic home renovation and construction. They wanted to do more than build beautiful houses—they wanted to create warm, livable and sustainably built modern homes with an eye toward our collective American heritage.
AMERICAN TRADITION
A third-generation builder who grew up in Northern Virginia, DeLuca founded his flagship venture Federal Stone and Brick in 2001, crafting functional outdoor living spaces for Washington homeowners. Before starting his business, he spent five years in New York City, working at the Rhinelander Mansion, Ralph Lauren's flagship store on Madison Avenue.
DeLuca is quick to give credit to his time at Ralph Lauren, where he worked under Mary Randolph Carter, now Lauren's senior vice president of advertising. A fellow Virginian, Carter had a tremendous influence on the young DeLuca, instilling in him the value of lifestyle over any other tenet in the home design industry.
"Above branding, above all else, she taught me that it all comes back to lifestyle—understanding how people live," he says. "When she was rolling out Ralph Lauren Country, she came into the store and gave everyone a copy of 'The Bridges of Madison County' to read over the weekend. She said that this was the way of life we are promoting."
"It's the idea of how you could ever be able to trust someone to design your kitchen if they don't have an understanding of how to cook," says Bronczek, who came onboard with Federal Company after working as a legislative correspondent on Capitol Hill and an account executive for FedEx.
DeLuca imagines himself in any space he is designing, and he has even been known to live in his unfinished houses during the construction phase to get a better understanding of how his clients will make use of it.
"This leaves open the opportunity to stay inspired during the construction process and face challenges and adjust details as they occur," DeLuca says. The result, as exemplified by the Langley Ordinary estate, is a home built with the same love and attention that it will receive once it is inhabited.
As part of his design process, DeLuca makes a point to host dinners for clients in his home kitchen and theirs. "I went to Shabbat dinner with a Jewish family I was doing a kitchen for," he says, "and it was eye-opening to see how a kosher kitchen is organized. Not only was I able to make a kitchen better suited to their needs, but it made me a better designer in the long run."
His attention to beauty and function in kitchen design has not gone unnoticed. In 2007, he won a highly coveted award from Viking, the acclaimed American-made range and stovetop producers. He is now a featured designer for the company and is frequently retained to design Viking kitchens.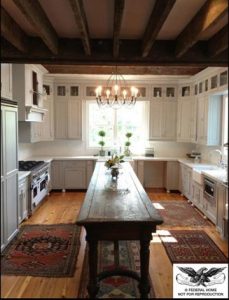 "Kitchens are particularly close to my heart because that's where everything happens," says DeLuca. "It's the heart of a home—where you spend the most time with your family, cooking, telling stories and just building on your traditions. I was raised in the kitchen with my mom and grandmother—the recipes they taught me are still what I go back to when cooking with my clients. So, it's important for me as a designer to make a distinction between a beautiful kitchen, and a beautiful functioning kitchen."
DeLuca's personal home has a unique feeling—a farmhouse atmosphere of historic Americana interwoven with highly textural and contemporary aesthetics, with zero molding and clean architectural lines. He has a tremendous reverence for light and functional space, reminiscent of the architect Hugh Newell Jacobsen, if he were designing such traditional spaces. His interiors and exteriors are not designed separately, but as harmonious counterparts, and the results are among the most nuanced and fully realized living spaces imaginable. They are strikingly modern homes that pay homage to the history of American craftsmanship, becoming a part, if not the forefront, of its evolution.
AMERICAN SALVATION
While working in New York, DeLuca spent countless weekends rummaging through flea markets and swap meets, a source of frequent inspiration to which his superior Carter frequently turned to keep the rugged American branding of Ralph Lauren looking fresh and interesting. Taking that practice to the next level, DeLuca has made salvaging reclaimed building materials a major component of Federal Company.
"My free time is all about traveling now, because there is so much to see and find," he says. "I blog about design, food, independent businesses that I find, and basically anything that interests me across the country. I will try to go relax and just hang out on the beach, but I honestly have more fun waking up, jumping in my car and finding three small, family-owned businesses. And if I can get them a couple orders, then I've developed an opportunity to get unique products for myself, I've gotten them some work and I have promoted American small business."
Over the last decade of traveling, DeLuca has also amassed a community of some 90 pickers who act as his eyes and ears around the country to seek out rare building components, wood, stone and other salvageable materials that he purchases and employs for his unique style of home building. Recently, they helped him find a 200-year-old oak barn in Michigan, from which they reclaimed wide antique planks for use as walls and flooring in a home library renovation.
"This is who we want to work with, and this is the kind of work we want to do to help carry the torch of traditional American small business and specialty craftsmanship," says Bronczek. "Salvage businesses and family-run supply companies are dwindling communities because we are so used to going to some big-box corporate hardware store and buying whatever they have available, as opposed to exploring other options—unique or custom options better suited for our homes."
AMERICAN RENAISSANCE
DeLuca's multifaceted interests and all-inclusive home design services have given Federal Company something of a multiple-personality disorder (though in keeping with American style and design), which makes it difficult to sum up in one sentence. Reclaimed America, one of their ventures, was born from DeLuca's journeys through the American countryside, where salvaged wood and materials that he finds are repurposed to create harvest tables and other custom products. Susan Sarandon recently became the first owner of their new line of clutch bags, made from repurposed wood handles and vintage leather.
Meanwhile, Federal Home is the moniker for the company's interior and exterior home design, while Federal Stone and Brick covers their comprehensive landscape and outdoor living services. "Having these three distinct components to our business gives us the ability to provide a 360-degree approach to our projects," he says. "We can provide consistent and holistic design, from the front walkway to the back porch, and all the way down to the paint and the rugs."
When asked if there is anything that he does not do, DeLuca replies unblinkingly: "No."
He is on the board of the Washington Animal Rescue League and West End Cinema. He frequently donates his time and services to a number of societies and organizations around the Washington area, including Georgetown University's Lombardi Cancer Center. His most recent project is called Urban Orchard, which aims to plant fruit-producing orchards in inner city neighborhoods.
Speaking with DeLuca, however, his multidisciplinary approach to life and business seems to coalesce rather naturally, and even simply. For him, it really comes down to love: his love of people, service, nature, small businesses, community and American heritage. And that is the secret to his success.
"Creating a home betters your life, and that's what is really important to us," he says from across his desk at Langley Ordinary, which is cluttered with personal snapshots of clients whom he simply calls his friends.
"I want to build things with integrity and with solid materials for people that I care about. I want to make something new and sustainable that's infused with history. That can't be confined to a singular business plan. It's a way of life, and one that people deserve."
Most recently, DeLuca and Bronczek's Reclaimed America was nominated for the Martha Stewart American Made Award, which celebrates the American designer. Reclaimed America placed second out of 478 companies in a nationwide competition.
"It was an amazing experience for us," DeLuca says. "We had no marketing or budget, no production warehouse. We just had our small carriage house, our reclaimed wood and our passion. Along the way, I traveled throughout the East Coast, meeting some amazing people who gave me hope in the future of our country, which I think I was able to return. If you ask me, that is winning."